Synchronization in Google Sheets
After you have successfully mapped your columns, you can now synchronize the sheet content with Wordbee Translator. You can start the synchronization process by selecting "Synchronize" in the Wordbee Link extension.
Alternatively, you can find a Synchronize button in the Active Document Info tab of the configuration screen. Here you can also find information about the connected Flex document as well as timestamps for past synchronization operations.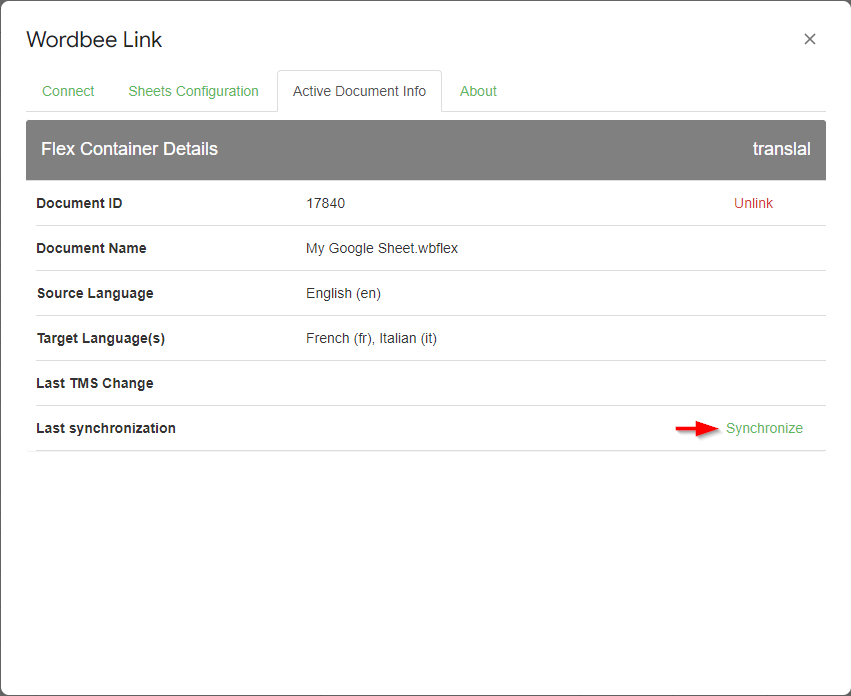 By clicking on "Synchronize" the updates are getting pushed and pulled between Wordbee Translator and Google Sheets.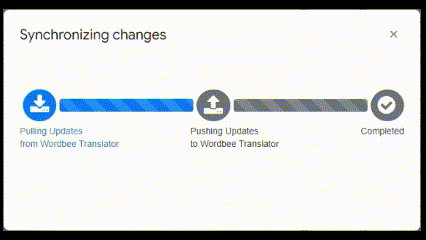 Pulling Updates from Wordbee Translator
In a first step information from Wordbee Translator are pulled into the Google Sheet. This information includes target text, last change dates and custom fields.
Pushing Updates to Wordbee Translator
Afterwards content is pushed from your Google Sheets to Wordbee Translator. This includes source text, custom fields and segment lengths.
A Note on Custom Field Synchronization
Custom fields are the only properties that you can pull and push in both directions. If there are differences in the custom field information in Wordbee Translator and Google Sheets, the information from Wordbee Translator will be pulled first and overwrite the information in Google Sheets.
Accessing Information in Wordbee Translator
To view your pushed information, go to the CAT Editor in Wordbee Translator. Here you will see all the information that has been pushed. Translators can now start working.
Google Sheet users can synchronize the content again at any time to push new or changed source texts and check the current status of the translation. Depending on the workflow and Flex parser settings, linguistic workers will be notified of these updates and invoices will be created accordingly.