Upon first installation you are asked to register your Beebox for an initial 30 days trial. Later you can buy an annual license if you want to continue using Beebox.
View License Information
The Account & License page is accessed from the main navigation menu:

The license information display:
License status: Either TRIAL LICENSE or REGULAR LICENSE. The latter is shown if you buy a license.
License expiration date: Indicates the date until which (inclusive) the license is active.
Product version: The version of the installed Beebox. We recommend to regularly upgrade to the latest release.
Features and limitations: Depending on your license, certain features may be enabled, disabled or limited. The "unlimited" Beebox version gives access to all the features without any limits in terms of project number or data volume.
Activating or Extending a License
When you buy a regular license (valid for 1 year), extend a trial or change other license details you receive an Activation Code from Wordbee. To activate the license:
Click Enter activation code
Paste your code and confirm
The license page is updated
The screenshot below shows how a regular license may look:

Your Account Details
Below the license information you can see your company details and your Beebox administrator login.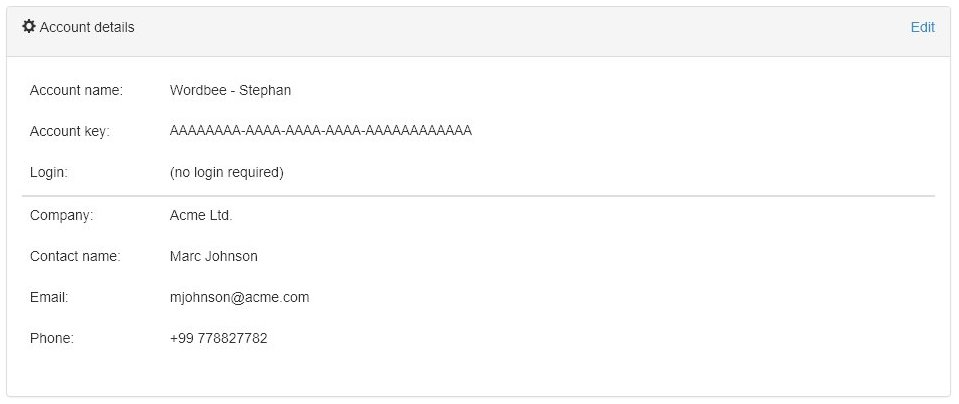 To edit details and administrator credentials:
Click Edit
Make changes and confirm with Ok
Administrator Credentials
The administrator credentials (login, password) are required to connect to the Beebox user interface. During initial registration of the Beebox you were asked to define your login/password.
Where is my License Stored?
License details are stored at Wordbee in a License Server. Your Beebox synchronizes with this server once every 24 hours and each time you go to the Account & License page.
A copy of your license is stored on your server/PC inside the c:\Beebox directory. If you accidentally delete the license file or the Beebox directory, you will be asked to register for a trial once again. In that case please contact Wordbee support to move your license to the new installation. When you uninstall or upgrade the Beebox server, the Beebox directory is left untouched. Your license information is preserved.