Create file format configurations
A file format configuration may be created in three ways within Wordbee Translator:
Create from Existing
If you want to create a new configuration based off an existing one, you can either save it as a new configuration during editing or create a copy of it and then make the required changes. Each of these options are outlined below:
Save as New
A new format configuration may be created by editing an existing one. Simply access the file format configurations in Wordbee Translator and click on Select for the desired configuration.

Then click on Edit in the upper right corner to begin making changes.

Once all desired changes have been made, click on Save as new in the upper top right of the screen to create the new configuration.

Create and Edit Copy
Another option is to use the drop-down menu when viewing all configurations for a selected format or file extension. Click on the down arrow for a desired configuration and then choose Create and edit copy from the menu.

This will create a copy of the chosen configuration, which can then be modified to fit your specific needs.

Click on Save once you have finished making all changes for the new file format configuration.

Create a New Configuration
To add a new configuration, select the format or extension you would like to use and then click on Add New in the upper right corner of the screen.

Enter a Name and Description for the file format configuration:

Then select the options you want to include as part of the configuration by checking the box next to each desired choice. In the example below, an XLIFF format configuration is being created and only certain options have been selected for handling content, whitespaces, and symbols within a translation file.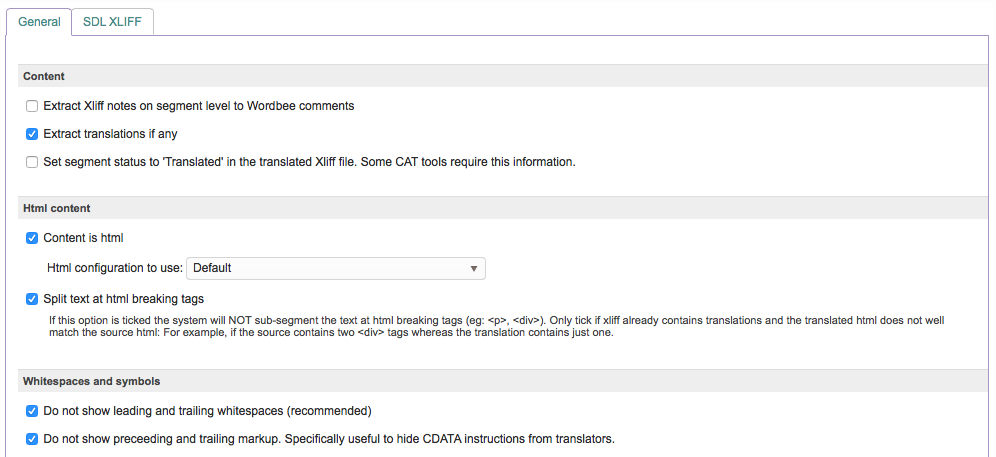 You may also enter rules for content exclusion as part of the configuration. This is done by entering a regular expression for capturing complete segments and then opting to translate or not translate those segments with the Translate Option. You may also add an optional description if desired.

Text segmentation options may be configured for most file formats and extensions

Please note that the provided Tabs and Options will vary based on what format or extension you are using to create the configuration.
After all desired options have been configured, click on Save at the top right of the screen to finish creating it.

The new configuration will appear within the list when the format or extension is selected within Settings > Translation Settings > Document Formats.