If many people work in your company, you have to define the role that they have in it: administrator, manager, worker, etc. This is managed from the People & Logins section.
Note:
When you define your company, you must define at least a project leader or an administrator with the right credentials to log on to the system.
To give a specific role to a person of your staff:
Click on My Company.
Click on the People and logins tab.

Select a person.
Click on the question mark situated in Profile in the Account sub-menu (screen shot below):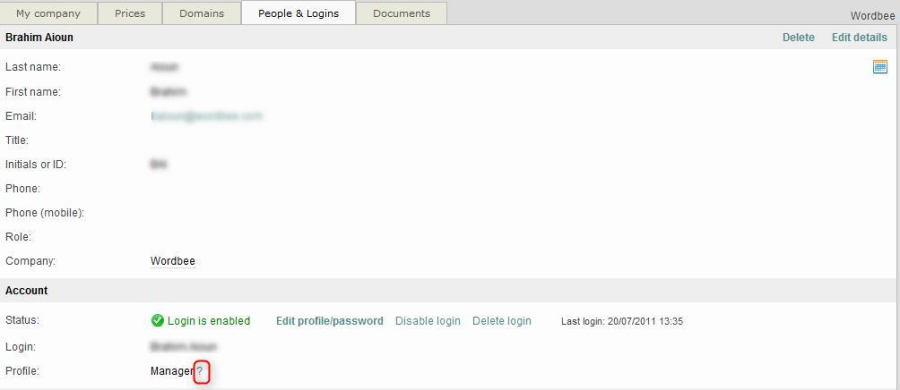 Only one administrator can be created!
To add a login, follow these steps:
Point to My Company on the menu bar and click on People & Logins.
Click on Add new.
Fill in all the fields. (Fields with an asterisk * are mandatory.)
Click on Save.
Service portfolio
Define which tasks can be performed by the user in the platform at the bottom of the page.

Click on the

icon to start defining your service portfolio:
You can define each service for a particular language combination or for all languages available in the system

It is not mandatory to define prices and units for each of the services added (specially if you don't create invoices for your internal staff).
Details for Automatic deadline calculations
In the middle of the popup you will encounter two fields that allow the system calculate due dates for this user accordingly:
Capacity (Speed): refers to the estimated workload the supplier can take in the platform (it should be an average of all the projects he could be involved in)
Lead time refers to response time of the user to accept the assignment and start working

Setting up these values is not mandatory and you can always update the service details in a later moment. Once you start working in the platform, the "Statistics" tab in the upper part of the page will also give you useful information about these metrics.


In the end, this is how the custom service porfolio will look like:

You can add new tasks or edit the ones existing at any time!
Administrators can create and customise the list of tasks in the platform at any time. Learn how to do it in Settings > Task categories.