This option will allow you to see how the document you are translating looks like.
You have dedicated buttons to launch a preview of the source or the target file. Depending on the file format, the system will launch the preview directly within your web browser, or will propose you to download the generated file.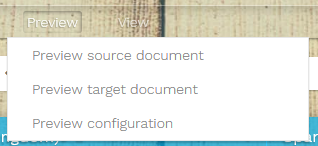 You also have the possibility to configure your preview preferences by clicking 'Preview configuration'.
The following pop-up will appear, in which you can configure options like 'Display source text (if translation missing)' when previewing translated documents.
Other options are available:
Select a web location→ allows you to optionally indicate the url of the web site where images or style sheets, that this page may reference, are located. This may render the page exactly as it would look like once integrated with the web site.
Choose a file encoding → if this is different from the one of the original file. Or if the preview shows garbled characters then you will need to select the right encoding.