Sometimes, you may have projects that have common parameters (languages, domains, word count, linguistic resources...). If this is the case, read the following section.
In this section you can find:
Creating project templates

To define a project template, follow these steps:
Create a new project (see: Creating projects).
Fill in the Project details page (standard project) or the Project settings page (Codyt project).

In Codyt, you have the possibility at manager level, of enabling the secret mode if you wish to restrict the accessibility to specific users (administrators and project managers in charge of the project). The secret flag will be copied together with the backup PMs into the project template.

Click on Save and continue.
You should then select (if needed) the linguistic resources to be used for pretranslation under the Resources section of the project, and define the workflow to be followed, under the Workflow & Suppliers section.
Finally, in order to create a project template you should reach again the Project details page (standard project) or Project settings page (Codyt project) and click on the Save project as a template icon

this will save the languages, workflow, resources and wordcount settings that you have specified in the project.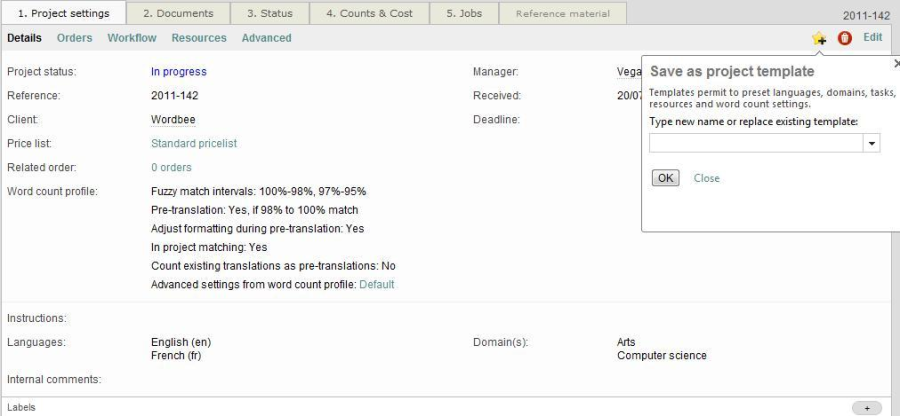 Enter a name in the field.
Click on OK.
Note: You can also open an already existing project and save it as a template.
Using project templates to create a project

To use a previously created project template in a new project, follow the steps below (you can also use this procedure for CoDyt projects):
From the Home page, click on or point to the Projects' down arrow.
Select New Standard project from the list.
Click on Preset from template (next to the Requirements section heading) in the Newproject details page.

The Select template section opens. You can close the template section and go back to "manual mode" by clicking on Type in.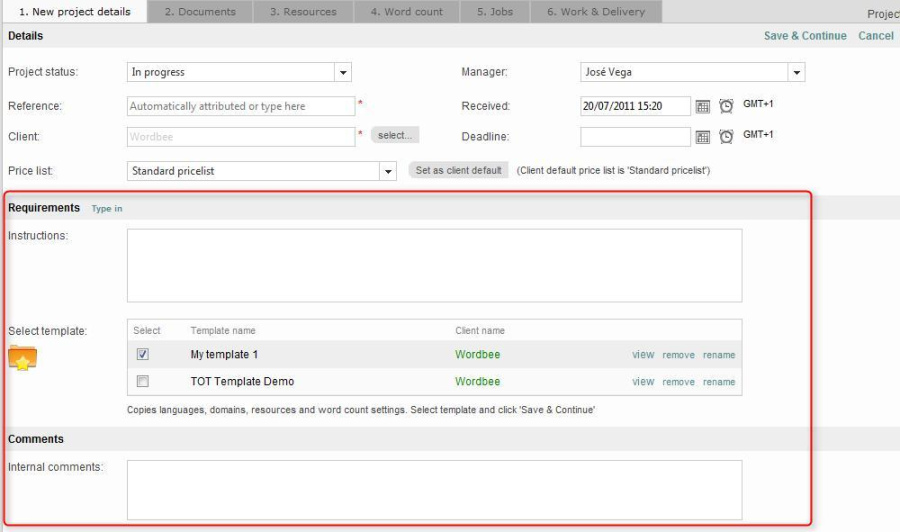 Tick the checkbox corresponding to the desired project template.
Remember
Project templates will retrieve all configurations for Wordcount, Languages, Domains, Workflow & Suppliers and Project resources. from an existing project. This could help you save time in your next project
Remember
Project templates with the secret mode enabled can only be selected by administrators or the managers designated in that project. Learn more on how to activate that mode and make your project details confidential here.
Fill in the remaining details and once everything has been configured, click on Save and continue to confirm and create the CoDyt project.