Complete the Project Details
CoDyt (Continuous and Dynamic Translation) is a type of project created and used by Wordbee to describe its project automation system. Codyt enables you to easily manage your projects by defining project templates, which will automatize your workflow and word-count.
To create a new CoDyt project, hover your mouse over Projects in the Menu Bar and then click on New Codyt project.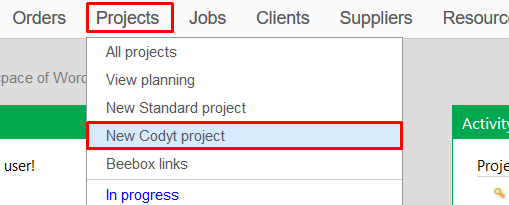 Next, you will need to enter the details for the project. Any item with an asterisk is a required entry and all others are optional.
To successfully add a CoDyt project to the system, you will need to configure:
the client,

source and target languages


domains (if applicable).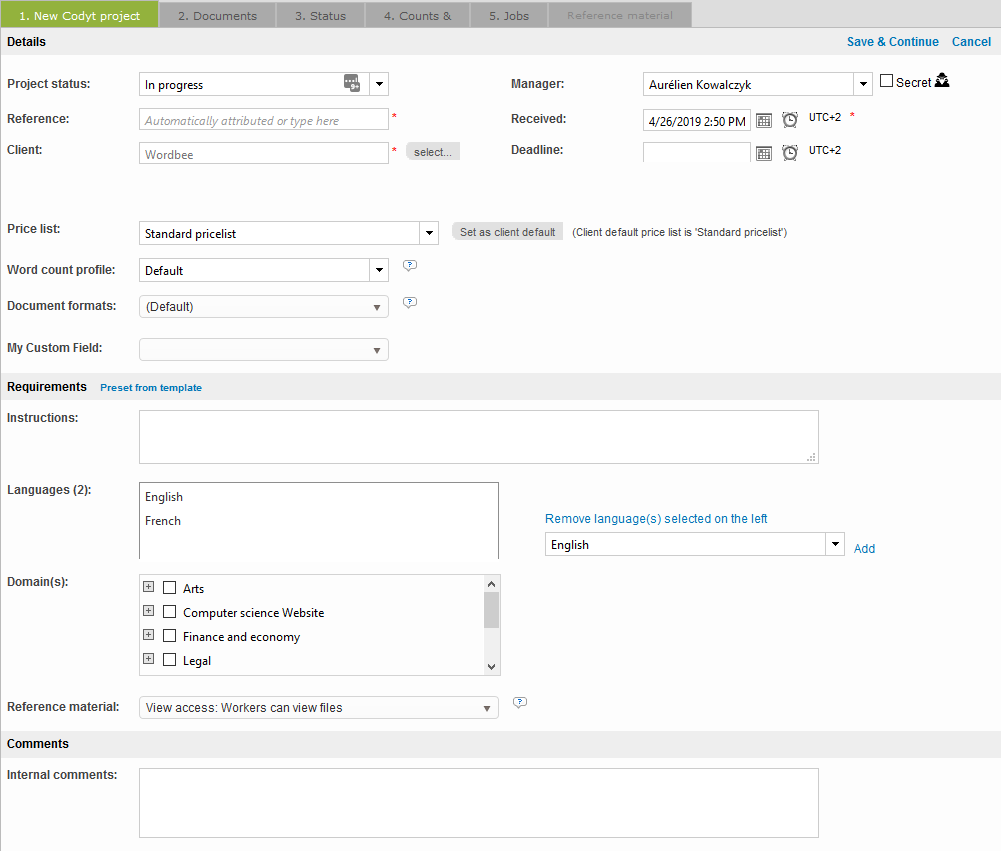 Language(s):

You can choose one or as many as needed. Remember that in CoDyt projects all languages can potentially work as source or target languages (many language combinations are possible).
Price List: The price list determines how quotes and costing will be handled for the project and can be a standard price list or specific to the client or supplier. To learn more about price lists for CoDyt projects, please see Supplier Management or Client Management.
Word count profile: Select the word count profile of your choice. To learn how to create a word count profile please see Word Counting.
Document Formats: File format configurations may be used to configure special rules for extraction of text on specific types of documents. To learn more, please see Document Formats.


When creating a project, you also have the possibility to designate a responsible manager to be in charge of the communication with your suppliers. If you wish to restrict access to the project to that specific manager (or any backup manager designated when the project has been confirmed), then you need to activate the secret mode checkbox.
Remember
Please note that confidential projects can be accessed by administrator users at any time who will always be able to reach any kind of information in the platform. Moreover, invoices created for secret projects are not subject to restrictions. Make sure access rights have been set accordingly for all users so that you keep under control which users should be able to use the reporting module, where all projects are displayed.
Once everything has been configured, click on Save and continue to confirm and create the CoDyt project.

Remember
You always have the possibility to save your projects as templates, so that the next time you can retrieve the same general configurations when creating new projects. These templates contain all general details from the project settings tab (general details, workflow steps and linguistic resources). Once you configure all three categories (which will be done in the next steps), you can save your template and use it right away the next time you create a CoDyT project! Learn more about workflow template.

If you have any linguistic resources to apply to your project, refer to the next step: Add Linguistic Resources to a project. Otherwise, you can now Upload your documents.