Your whole service-book is available in a single space where the tasks each translator company in the system can do are listed. These tasks are retrieved from the Supplier pricelists, therefore you should find as many lines as services are defined for each supplier company. Remember supplier companies can be of type "team" (LSP, agency) or "individuals", just a person working as freelancer.
With Wordbee Translator, you are able to create a full pool of vendors and navigate the general services they offer from a single screen.
To learn about adding a supplier and configuring them in the system, please see the following sections:
How to access the service-book in the System
Under the suppliers tab, you will find an option to navigate to the supplier services. To access the supplier management screen, click on Suppliers in the toolbar and the screen will appear as shown below (on mouse over some actions will also be proposed):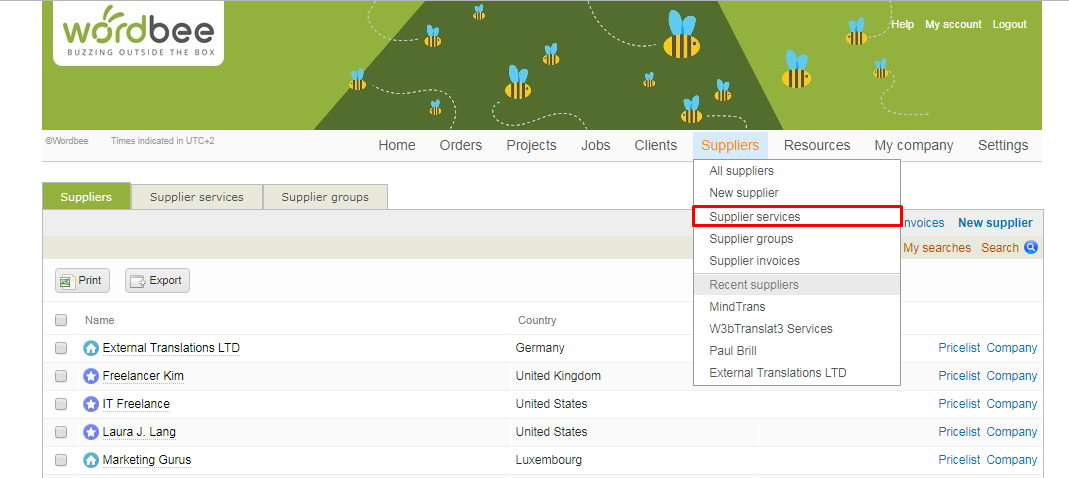 In this section you will be able to find all service fees and definitions provided by each vendor company. Like many other dashboards in the system, this page is also equipped with filters so you can focus on specific language pairs, units, domains or other context information for that service.

Additionally, if you see you need to add more services you will have a quick link to access pricelist details of existing vendors. You can also create new vendor companies if your sear/filter did not prompt the expected results.
One interesting feature you can enable in this view is the column with Business analytics feedback. This space shows the average note for the feedback received by the supplier in the last 3 months. The feedback is gathered per task type, so you will have different notes depending on the job and the language pairs.