Before You Start
Machine translation vendors have various requirements that, if not met, may prevent your translation request from being processed. A prominent example of such a requirement is the maximum segment length. If your segments exceed this limit, they will not be processed by your MT vendor and may cause all subsequent requests to fail. To ensure reliable processing of your requests, it is advisable to familiarize yourself with your provider's specific text length requirements. In general, it is recommended that you split segments at the sentence level or at least keep the number of characters per segment below 2,000.
Client Portal
MT Configuration
You can create a client portal option and attach an MT profile to it. Whenever a client (or project manager) orders files via this option, all uploaded files are automatically machine translated using the attached profile.
To apply the profile the profile, go to Settings > New order form and click Configure.

Now select your order form, add an order form option and choose the machine translation profile that should be auto-applied for all documents that are uploaded when clients upload their documents.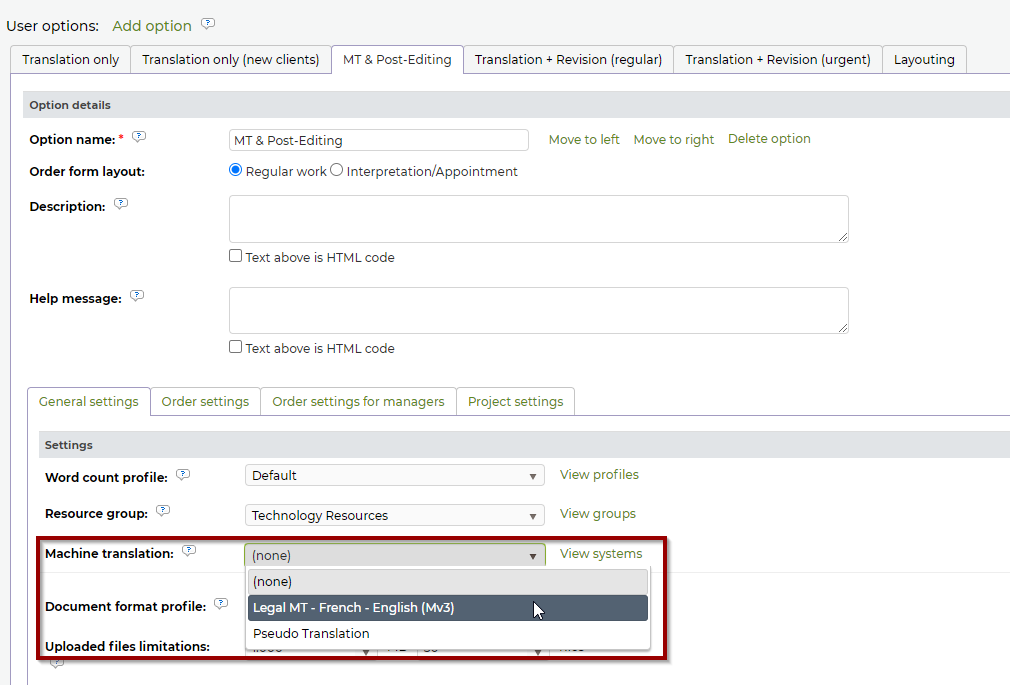 Reminder
If you configure a resource group and an MT profile within the same order form option, then Wordbee Translator will first apply pre-translations from translation memories and other linguistic resources, and only process the remaining empty segments through machine translation.
Use Cases
Use Case 1
You can add a client portal option called "MT & Post-editing" and attach an MT profile to it. When clients upload their files using this option, all documents are automatically pre-translated and, if a project workflow is in place, a post-editing job is automatically created and assigned to an appropriate linguist.
Use Case 2
You can train different machine translation engines for specific use cases or domains. In the client profile, you can then create several client profile options and call them "Contract Law", "Real Estate Law", or "Administrative Law". When a client uploads their specialized files, they select their option and ensure that the documents are processed by the correct system. A specialized post-editor can then enter the translation editor and validate the machine translation.
Use Case 3
You can also use MT to create a fully automated ordering process. Sometimes users just need a quick translation to get the key points of a document. They can place an order, have it machine-translated and automatically delivered back into the order. Since Wordbee's workflows and invoicing can be fully automated, certain orders can be handled completely automatically. For more self-service options, see also MT Hive below.
Word Count Profiles
In word count profiles users usually define how words are counted but also, among other things, how pre-translations and machine translations are performed. You can enable a specific MT system within a word counting system which is then used whenever a word count is performed. To do this, go to Settings > Word Counting.

In a second step you can select your word count profile, enable MT usage and specify which system to use.

If you save your changes the machine translation will be used for every new project with that word count profile enabled. A corresponding indicator is added in the project details.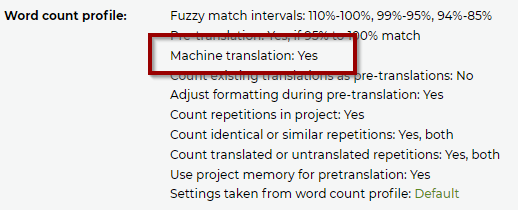 Document Translation within a Project
Within a project, you can select any number of files you want to machine translate and click the Machine translate button on the top. In Codyt projects you will find this option in tab 5. Jobs. Standard projects display this option in tab 6. Work & Delivery.

Clicking the button opens a pop-up window where you can select your machine translation system and the exact behavior. By clicking OK you trigger the machine translation for all selected documents.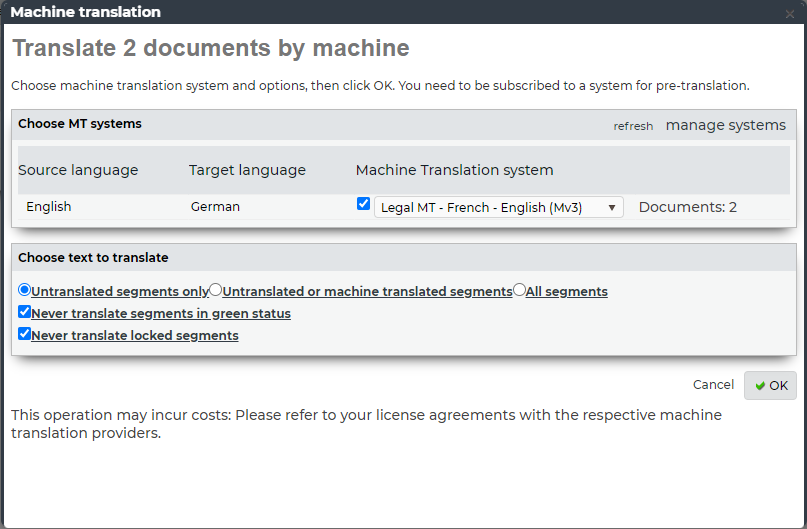 Individual Segments in the Translation Finder
Within the Translation Editor, the MT tab in the Translation Finder widget allows you to request a machine translation for the selected segment. You can use the drop-down menu to select the machine translation engine to use. Note that some engines require you to have an API key enabled in order to request translations, even at the segment level.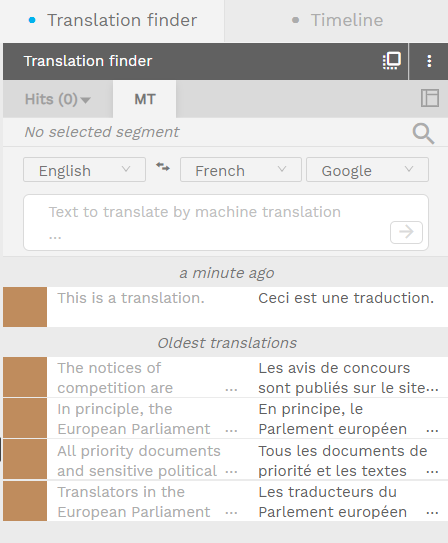 MT Hive
Wordbee MT Hive is a self-service tool that enables your clients or internal staff to request an instant translation via the Client Portal. If the instant translation meets quality expectations, the client simply downloads the processed files. If the translation needs improvement, your stakeholders can submit a post-editing request that is automatically routed to your linguists and project managers.
By using MT Hive, your users can use your trained machine translation engines. This way, you can be sure that your trained engines are being used to their full potential. In addition, using MT Hive increases data security because data is routed only through your paid MT vendor subscription, rather than through publicly available machine translation engines that reuse input data for training purposes.