What you should know before starting
Before configuring a word count profile, there are different concepts you should know about in order to make sure you define it according to your needs.
Choose the right counting algorithm:

Select 'Microsoft Word compatible' for all MS office files.
Link between pricelists and word count:
When configuring a word count profile you should take into account the different match intervals of discounts you have negociated with your suppliers. Besides, you probably apply discounts to your clients for these same intervals. For instance, we have negociated the below discounts for 4 match intervals: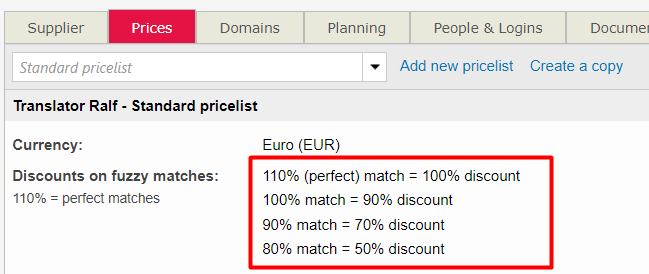 These intervals should therefore be defined in the below section of the word count profile:

Difference between matches and pre-translations:
When defining suppliers and company pricelists, you may have noticed that we let you defined discounts for 'matches and pre-translations. So what's the difference?
It all depends on the threshold of pre-translation that you define on your wordcount profile.

Like in the example, if you set-it to 80% then, when the system will process a file, all the matches above or equal to that percentage will be considered as pre-translations in the wordcount and the system will automatically fill target segments with these translations.
If you have configured a match interval which falls below the threshold of pre-pretranslation, then the corresponding words will be considered as matches in the wordcount.
Both matches and pre-translations are translations for complete segments that the system has found in the linguistic resources attached to a given project (= translation memories, terminology databases, project memories). For the 'pre-translation, the system fills in the target segments automatically with the translations, whereas matches are displayed in the Translation Finder results and workers have to enter segments for the translation finder to display the best matches for it.
Note that if you have results in match intervals when the percentage should display pre-translation results, then it means that it corresponds to repetitions.