Link an InDesign document to Wordbee Translator
Access the Plugin
In order to open the plugin, click on the Wordbee Link tab in InDesign and select Panel.
Alternatively, you can access to plugin through the Window > Extensions > Wordbee Link.
Authentication
In InDesign users first have to connect to their Wordbee Translator platform. In order to authenticate you need to provide a URL, User ID, and password.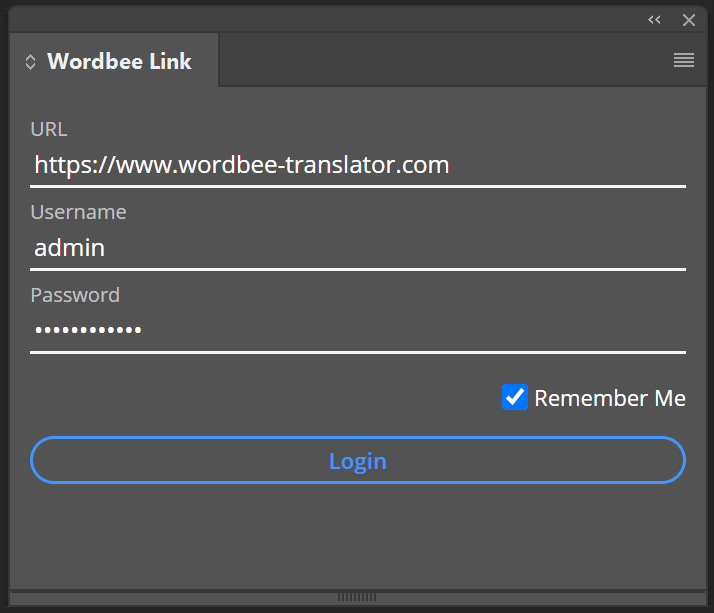 Establishing the Link
After logging in, you can open a new InDesign document and browse the available projects and containers by selecting them. In the Container Information, you can review the available source and target languages as well as the text configuration rules. Project managers and administrators can change these in Wordbee Translator.
InDesign files that have not yet been linked to Wordbee Translator are considered Standard Documents. Only Standard Documents can be set as source documents. To link the current InDesign document, select your container and click Set as Source. You will then need to confirm your selection by clicking Yes on the confirmation screen.
Quick Guide
Select your project

Select your container

Check the container info

Click Set as Source

Confirm the action
InDesign-specific Restrictions
Typically, Flex containers can be attached to multiple content sources. In InDesign workflows, this is not possible. You must create a Flex container file for each InDesign document you want to attach. If a Flex container is already attached to another content source, you won't be able to attach an InDesign document to it.
Push Your Source Content
Once your InDesign file is connected to a container, you can click Push to send its contents to Wordbee Translator. In addition to the source text, you will also push your current layout, which will be used to create the target documents.
With each push of the source document, text and/or layout changes are transferred to Wordbee Translator and made available in the translated documents. This way, translators and graphic designers only receive updates when content is curated and ready for the next steps.
Unlink Your Source Document
It is also possible to unlink a source document from a container. This may be necessary if you want to link your document to another container or if you want to prevent any synchronization with the target documents or Wordbee Translator.
You can unlink by opening the menu and clicking on Unlink Active Doc. This will stop the synchronization between the source document, Wordbee Translator and all existing target documents. It will also prevent you from creating new target documents. Please note that this action will irreversibly delete all links for this InDesign file and return the InDesign document back to its original state as a Standard Document.