You can apply changes to all filtered segments using the Actions link. This opens a popup.

The popup lets you:
Approve all

Upgrading the "trust level" means changing the origin of translation to "Human edited". For example, machine translated segments are tagged as human edited.
This is relevant when pretranslating future content.
Unapprove all

Update Properties and Translations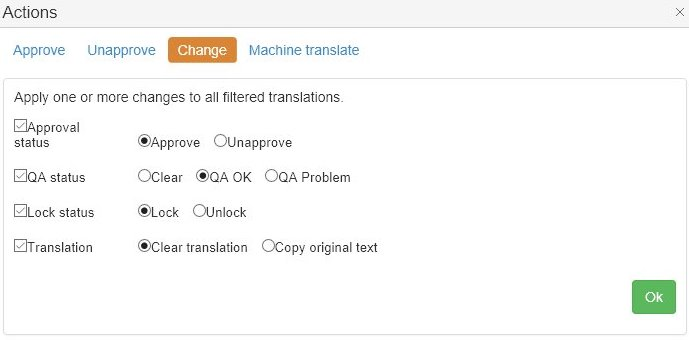 Tick the changes you want to apply. You can tick one or multiple at the same time.
Change approval status
Change QA status
Change lock status
Clear translation or copy original text into translation field
Always make sure to safely set your filter. Or otherwise, you may modify segments you did not want to modify.
Machine translate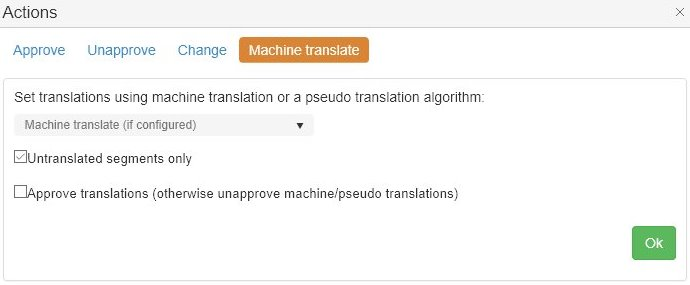 Pseudo- or machine translate all filtered segments.
By default, the system excludes already translated segments (see the ticked option in screenshot).
You can also have the system immediately approve the machine translations. Only do this if you do not need a subsequent human revision.
You can enable true machine translation from the project settings page.
Fix markup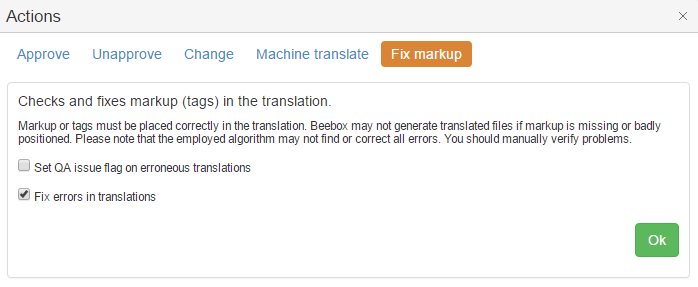 This tool permits to identify missing or wrongly placed markup elements in the translation.
With the first option ticked, translations with bad markup are flagged with a QA error. You can then filter QA errors.
With the second option ticked, the system will attempt to correct bad markup.
In Beebox markup is rendered as blue blocks: