Settings - Translation Vendor
On the 'Translation vendor' page, you can link a Beebox project to a Wordbee Translator platform. Beebox jobs can then be directly sent to the platform. You might own your own Wordbee Translator platform or want to link to the platform of your preferred translation vendor.
Link to Wordbee Translator
Caution
After a Beebox project is linked to a Wordbee Translator platrform, do not try to relink the project to the platfrom. If you relink a project, the link between jobs that are running in Beebox and those that are already running in Wordbee is lost.
The vendor key is unique for each Wordbee Translator instance. You can obtain the key from the administrator of the instance.

Fill in a key and click Find. The system prints the details of the vendor: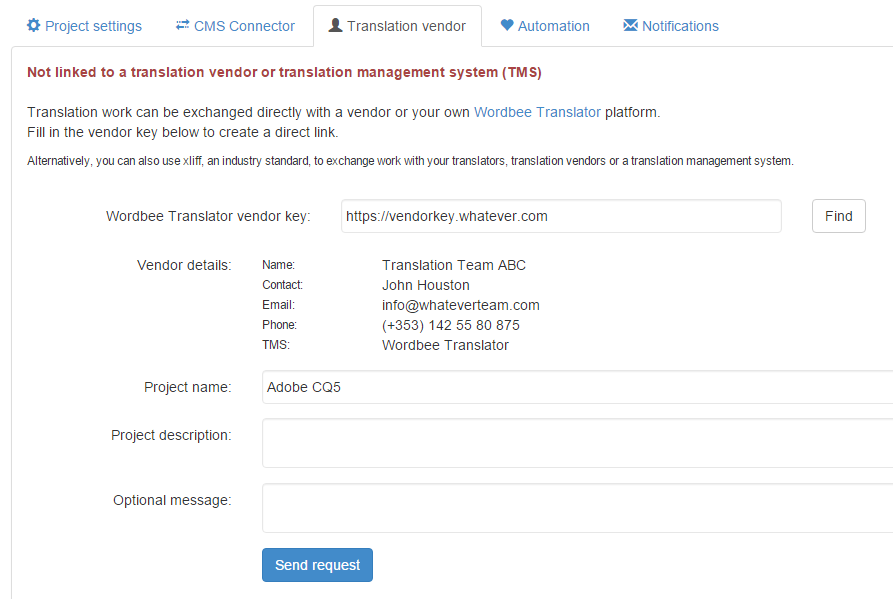 Click Send request to establish the link.
The administrator of the Wordbee Translator platform is notified of your link request and must approve the request. After the link is approved, the following information is displayed:

Enable file preview from Wordbee Translator
Optionally, you can authorize the Wordbee Translator team to preview source/target files.
By default, this option is disabled, and the translation team have access only to the segments that you want them to translate.
Enabling this option can be very helpful to the translation team:
Translators can view the original files that contain the segments in the translation editor of Wordbee Translator and download those files.
Translators can also preview translated files from the translations that they work on.
To enable the preview, click Enable:

The following information is displayed: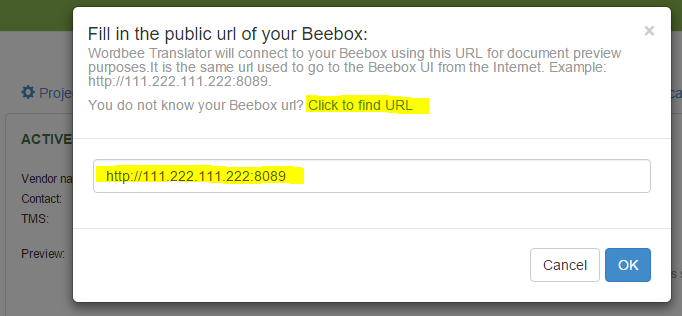 If you do not know the URL, click the link above the text box to go to a tool that detects the public URL.
Security and Firewall
For this feature to work, Wordbee Translator must be given HTTP access to your Beebox.
You must add firewall rules to allow inbound access from Wordbee Translator. Please see: