Adding Words to Dictionaries
Additional words may be added to any spellcheck dictionary within the system. To view any word additions or to add words to a dictionary, go to Settings > Quality Assurance > Spellcheck Dictionaries and click on Configure.
Then click on Added Words to the right of the desired dictionary.

The following screen will appear for viewing or adding custom words to the selected spellcheck dictionary:
Words added within the settings page are made available to all users of the platform. Users may also add their own custom words from the Editor; however, these are not shared with other users and will not be displayed on the screen above.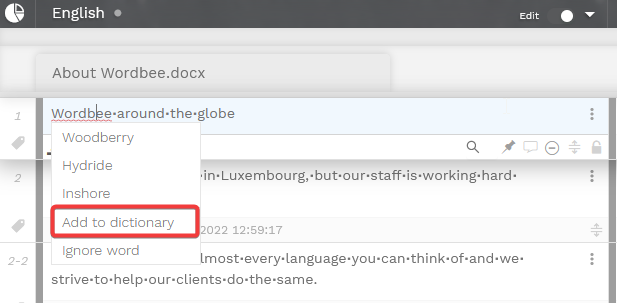 If any custom words have been added, they will appear within the screen. To add additional words, click on the text box and then type one word per line. After all changes are complete, click on Save in the bottom right of this screen.