How to accept and re-assign Jobs
This article shows external project managers and workers how to accept and re-assign jobs in their Wordbee Translator account.
In Wordbee Translator, you can accept and assign jobs individually, one by one, or in a batch, by selecting all the jobs at once.
External Project Managers and Translators/Revisers need the following job management Access rights enabled, namely R303, R313, R351, R352, R353, and R357 (new). See Settings > Customization > Access rights.
How to accept and assign jobs one by one
Open your Jobs dashboard.

View the Standard and/or the Codyt jobs assigned to your company.

Select one job from the list and click on Status in the Manage and Translate section.

A new window pops up where you can see the work status of the job, the properties of the jobs, and the potential messages exchanged with the client. Here you can do the following:

Assign job to another worker in your company. Use the drop-down arrow to choose the worker and click on Assign job.

Start translation work now. If you want to accept the job yourself, first read and accept the Terms and Conditions, and then click on Continue.

My company cannot take on this job. Use this option to refuse the job and return it back to the client.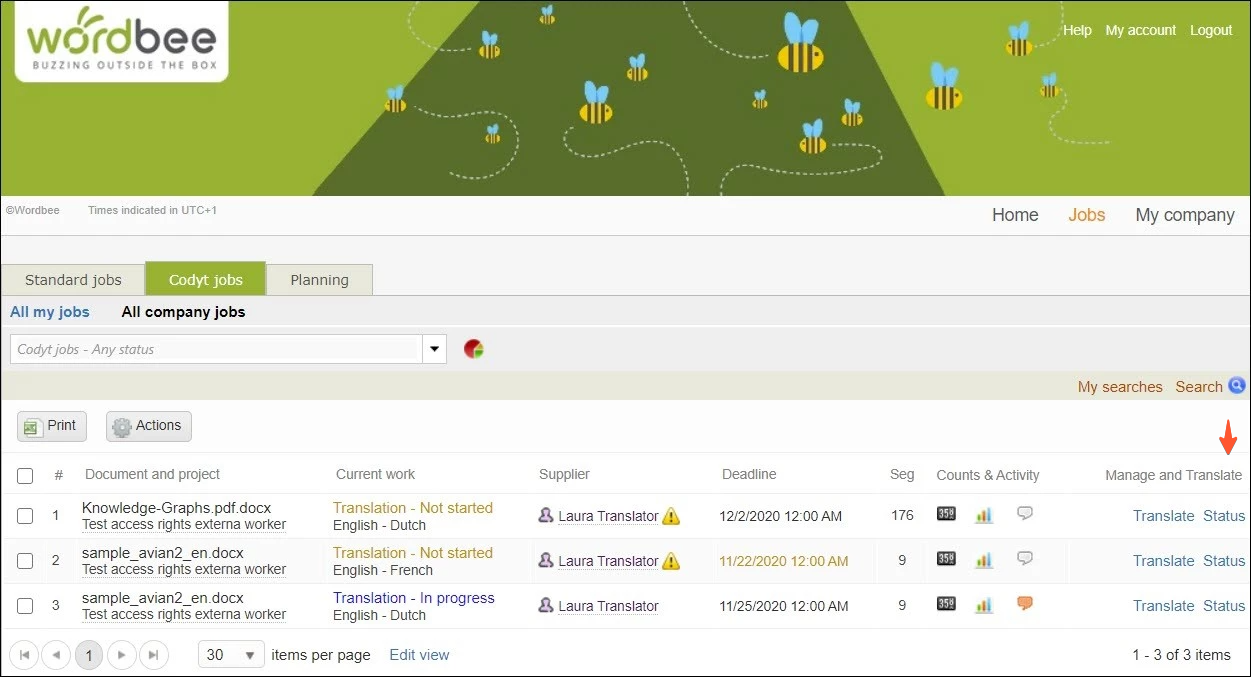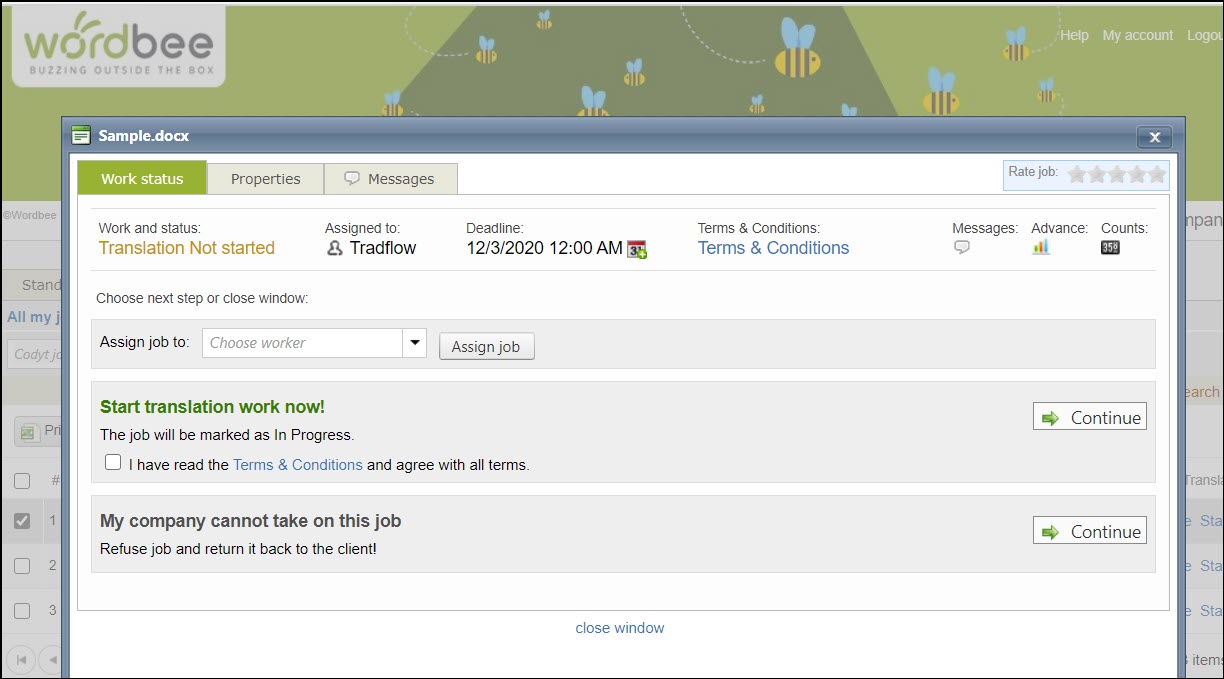 ---
How to accept and assign jobs in a batch
If you want to accept and start working on all jobs assigned to your company, select them all from your jobs dashboard and click on Actions to either Accept job openings or Start jobs.
If you do not see the option Accept job openings in the list of Actions, this means that the Access Right R357 has been disabled by your Wordbee Administrator. See How-to article.
The second screenshot below shows you the Start jobs option.
Read and Accept the Terms & Conditions for each job.

Select all jobs and click on Start jobs. You will be notified that the job status will be set to "in progress".
Before starting the translation work, you need to read and accept the Terms & Conditions.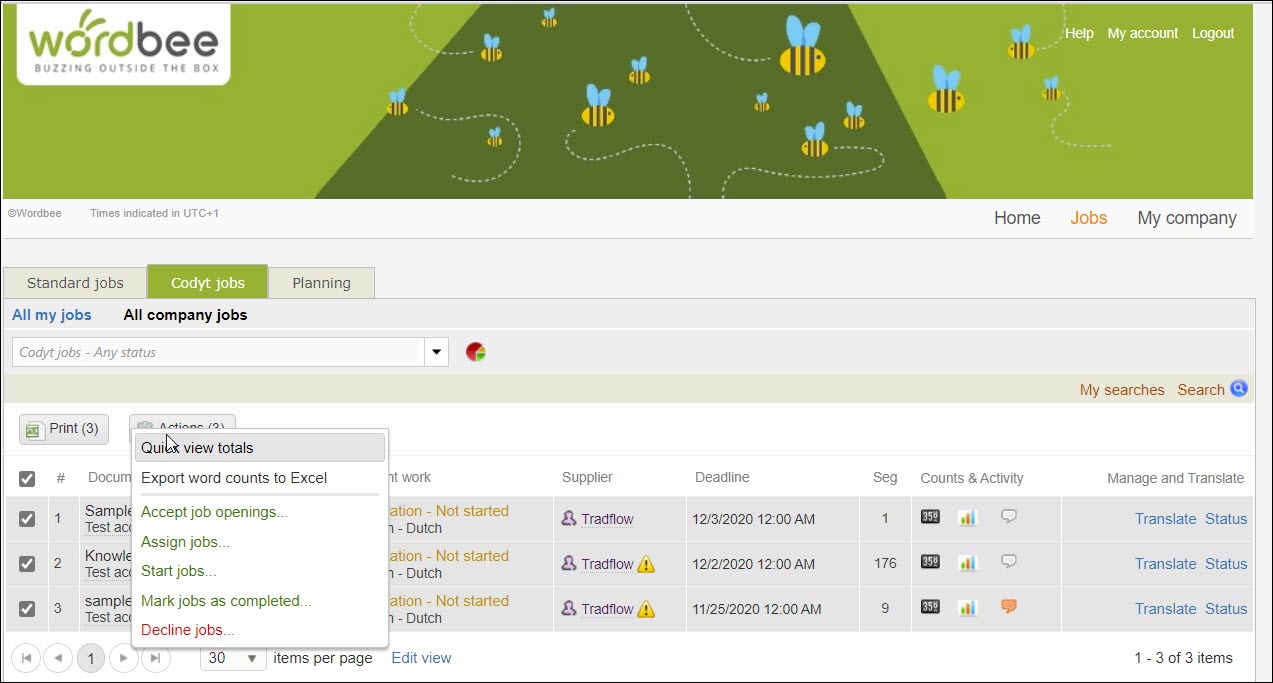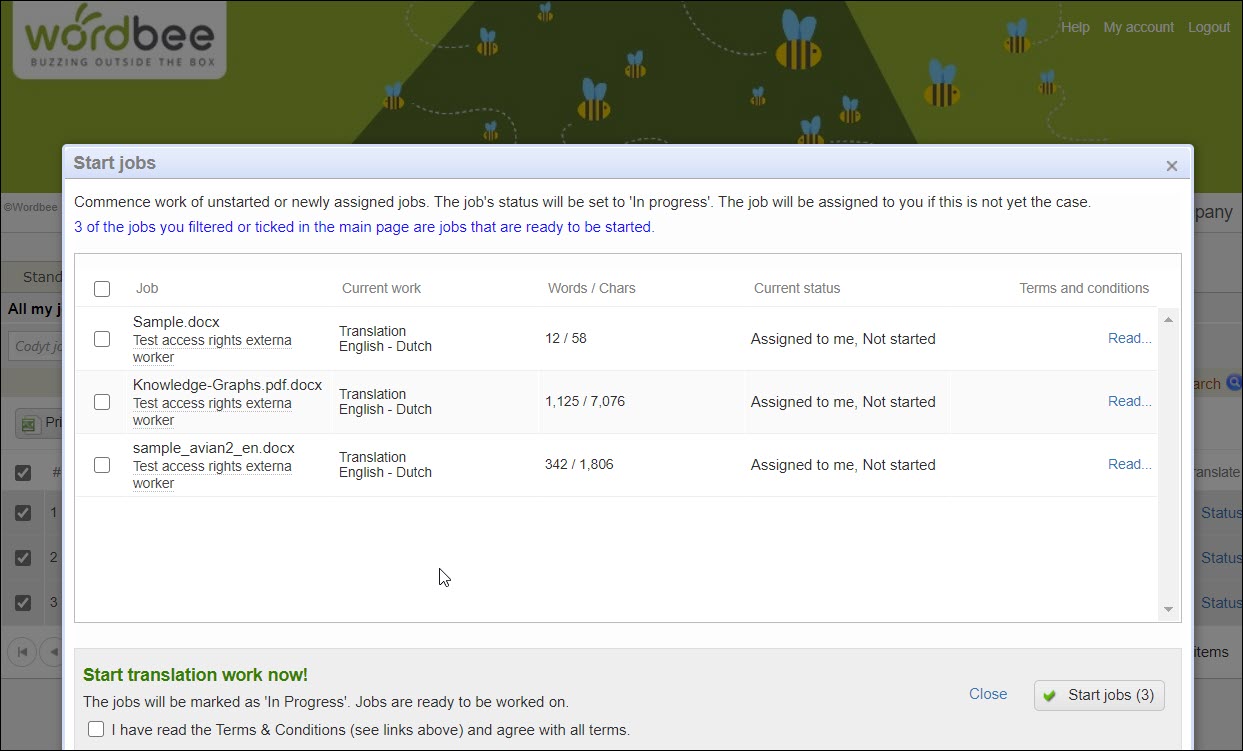 To assign all the jobs to the same worker, click on Actions > Assign jobs. If you want to view the details about the worker, click on Details. Otherwise, just select the worker from the list and click OK.
If a worker has already been assigned to the jobs, you can unassign the current worker.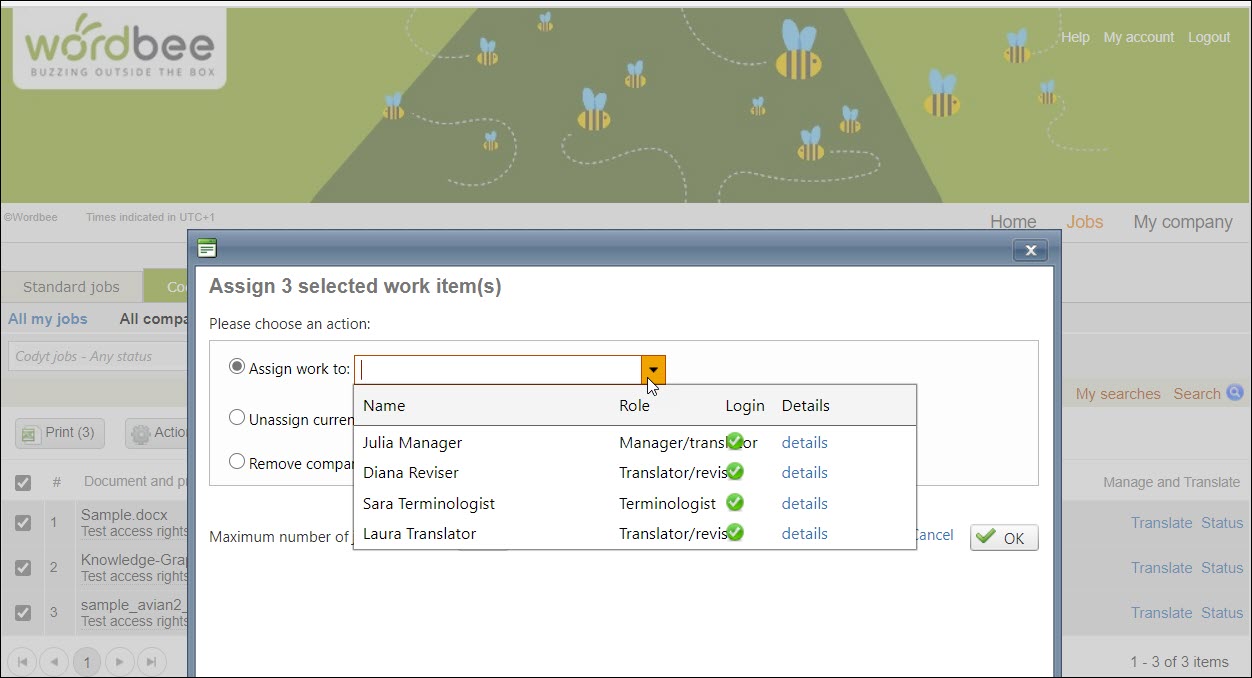 ---
Learn more
How-to articles - In our Knowledge Base section, you can find a series of articles about how to configure the access rights for specific use case scenarios.
Access Rights- This section is in the Administrators' User Guide and shows how to view, edit, assign and create custom access rights for all available user profiles in Wordbee Translator.
Linguistic Resources Management - Here you can learn how to set Access rights for external translators so that they can access and modify translation memories and terminology databases attached to the project.