Assigning Word Count Profiles
Once you have created a Word Count Configuration, you will need to assign that configuration to a project to ensure an appropriate count for the document(s).
Standard Projects
First, click on Projects and then click on Select for the project you would like to use. Then click on the Word Count Tab to assign the desired configuration.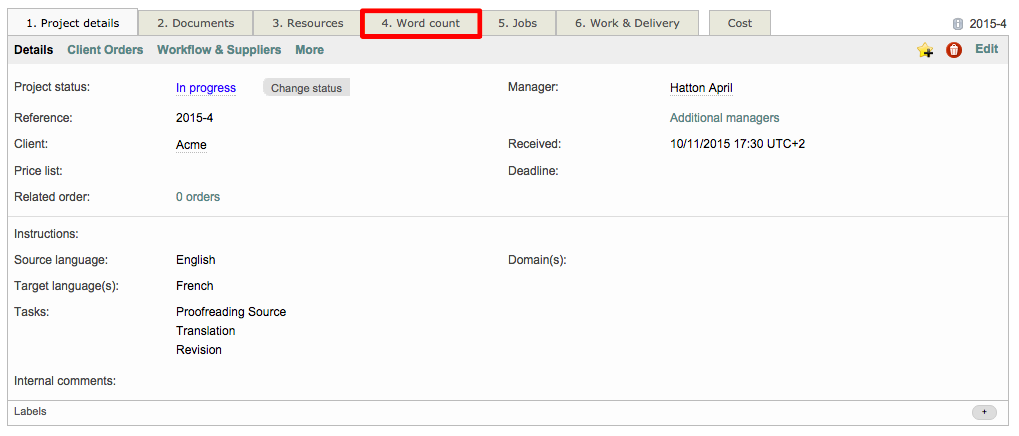 Click on Count Words to choose a profile and make any needed configuration changes.

In the pop-up window, click on the Word Count Profile menu and then select the appropriate configuration.

For Standard Projects, you are able to make changes after selecting the profile. This includes altering:
Fuzzy Match Intervals
Pre-translation Settings
Leveraging Project Memories
Counting New Documents Only
Once you have made the desired configuration changes, click on OK to finish assigning the word count profile to the project.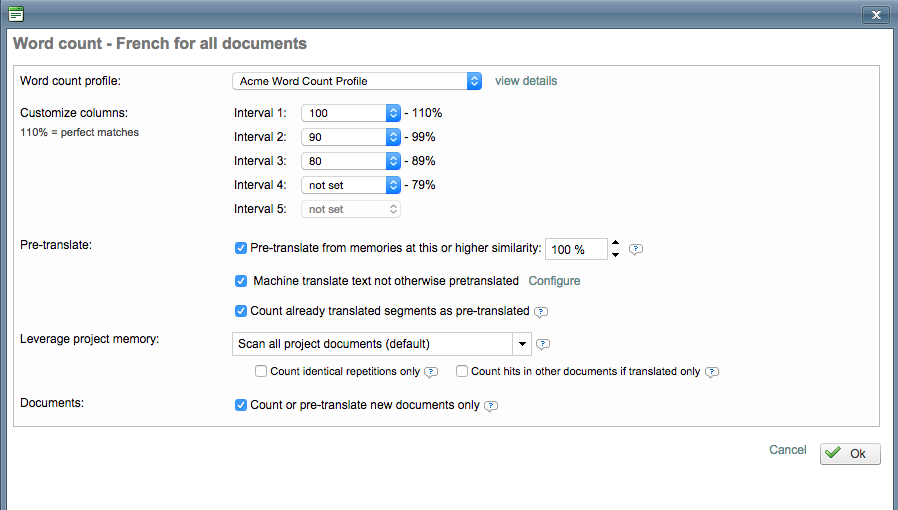 CoDyt Projects
Since CoDyt Projects are fully automated, you are only able to enable or disable Machine Translation (MT) of text that has not already been pre-translated via available linguistic resources.
For CoDyt projects, the word count profile is either defined during project creation or through the New Order Form configuration. You can elect to use MT for the CoDyt Project by enabling the option when marking the document for online translation.
To do so, click on Projects, select the project, and then click on the Documents Tab.

Right click on the, select Translate Yes/No, and click on Mark for online translation. Then click on Next in the provided pop-up window to continue to Step 2.

The Machine Translation setting may be disabled or enabled for each document when it is marked for translation. It informs the system to use MT for any text or segments that have not been pre-translated from linguistic resources, etc.

In order for document text to be pre-translated, you must have an MT activated in the system. See Machine Translation Settings to learn more.
Assigning Word Count Profile in CoDyt Projects
This information can be changed when clicking on Edit in the Project Settings for a CoDyt project. Use the drop-down menu to change the word count profile for the project and then save your change.

If the project is in process and the documents have already been word counted, then it might be necessary to clear the counts and costs to generate new information from the selected word count profile.