To make changes to current user ratings settings in the system, first go to Settings > General Settings > User Ratings and click on Configure. Then click on Edit in the top right corner.

Users have the option to rate the following:
Orders - Clients and inhouse staff are able to rate orders and deliverables for the project.
Jobs - Suppliers and inhouse staff are able to rate jobs and deliverables for the project.
There are separate columns for clients and managers listing the evaluation criteria they can select.
Overall is selected by default to allow clients, suppliers, managers, etc. to rate the overall quality of a project and the associated tasks. If no items are checked in a column, than ratings are disabled for the inhouse staff, cient, or supplier.

You can enable or disable any rating selection by clicking on the checkbox next to the item. If it has a checkmark, then it will appear as a rating option when viewing the project information. However, if no checkmark exists then that option is currently disabled. There is no limit on the number of items selected for user ratings.
Each selection will appear as its own five star rating to clients, suppliers, or inhouse staff members viewing the project information in the system. The administrator or project manager can activate these settings.
For example, if you check Work Quality, Friendliness, and Translation Quality under Client feedback for orders, then the clients will have the option to rate these aspects once the order has been delivered.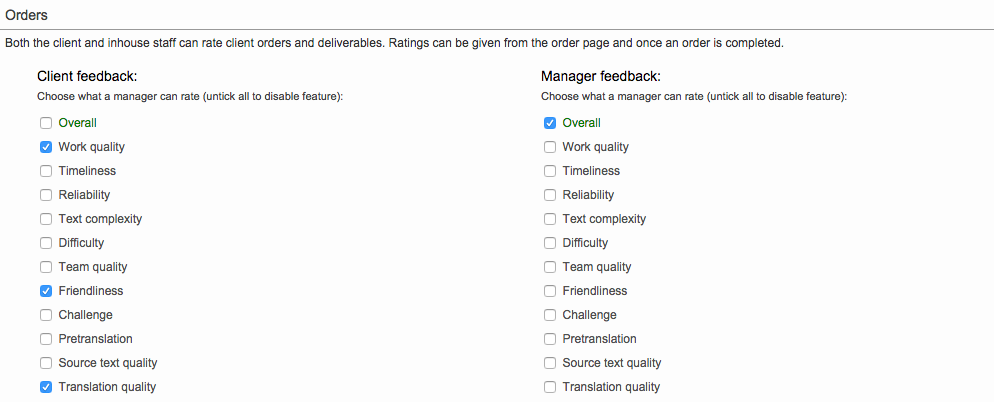 This rating may then be used to make changes for future projects in instances were they were less than satisifed with the work. The rating information may also be used to monitor the quality provided by suppliers in the system.
If you do not want to have user ratings enabled in the system, then simply uncheck any current selections on the screen and save the changes. When disabled, the user rating options will not appear in the project information area.
Ratings can be found on the order details page once the order has been completed or on the job details page any time after a job is assigned. Clients and suppliers logged in through the client portal will not be able to see the manager ratings.
If you need to change who is allowed to see or submit user ratings, you will need to customise user profiles in the system.
Once you have configured the desired rating options or disabled them, click on Save in the upper right corner of the configuration screen.

Learn more