Once every document for a job has been completed, it is time to finalise the translations so they can be sent to the client.
How to finalise a Standard job from the Editor
Go to the Job bar on top of the Editor and change the job status to complete. See the Job bar article for more details.

How to finalise a Standard job from the Jobs View
Go to your Wordbee Translator workspace and view the project.

Click on the Work and Delivery Tab and then click on Finalise for each document.

Next, click on Create. The document is now finalised and ready to be downloaded.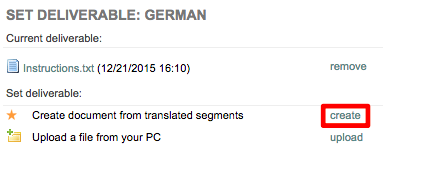 On the right, you will see three status indicators:
The first mark indicates that jobs have been assigned to the document.

The second indicates that the translated document has been checked in the translation interface and that there are no errors.

The third indicates that the document has been finalised and can be downloaded.

Under TRANSLATED DOCUMENT, click on the document and then on Download file.
You can now send the file to your client.