Job tabs (Standard projects)
When you select a job on the Jobs main page, the Job details page appears.
You can also see that there are three other tabs: Word count, Cost and Go to project. In this section, we will explain briefly what these tabs are about.
In this section you can find:
Job details
Word count
Cost
Go to project
Job details

This part has already been shown to you in: Creating jobs..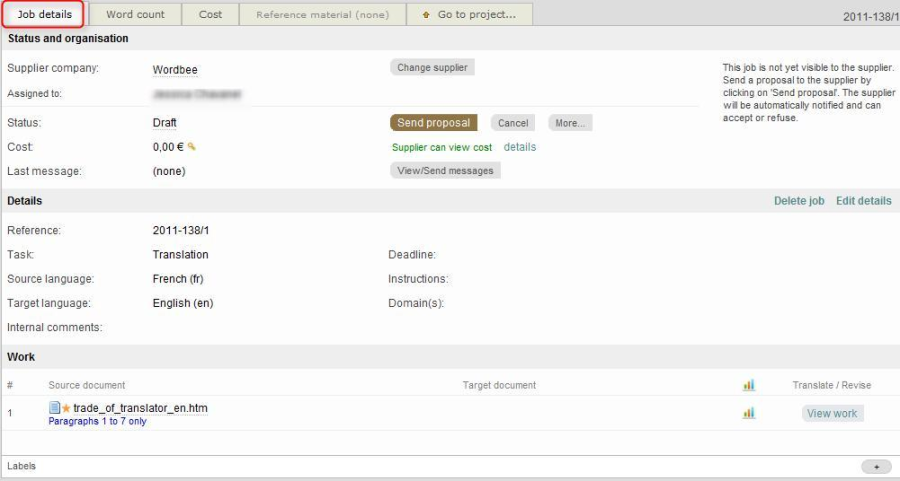 Word count

This tab enables you to see how many words there are to translate/revise…

Actually, you will see the same information as on the Word count page of the Project. However, no data will be available if you have not done the Count words process during the Creation of the project (see: Counting words).


You can also export all data to an Excel spread sheet by clicking on Export Excel.
Cost

This tab in the Jobs menu shows you the cost details for each supplier taking part in the project.

Contrary to the Cost page of the project, on this tab, you will only see the invoices and proposals that correspond to one of the jobs of the main project (translation/revision…).

Moreover, by clicking on Supplier prices, you will see the Standard price list of the supplier you have selected to do the job in detail (see: Suppliers price list).

Go to project

When you select a job, click on this tab (

) to go directly to the project's Jobs page showing all of its details (see: Creating jobsfor more information).


b