What is a terminology database?
A terminology database (termbase) is a database comprising a collection of terminological entries. In Wordbee, termbases are concept-based, which means that all the terms, their variants, synonyms and target-language equivalents designating a single concept are stored in a single terminological entry. Within the concept entry, there are three hierarchical sections: concept level, language level and term level. The concept level usually contains information about the subject field, a note, an illustration or a cross-reference to other related concepts. At the language level you can define the concept, add a reference and a note. At the term level, you can specify the term properties, such as term type, context, language and regional usage or grammatical information.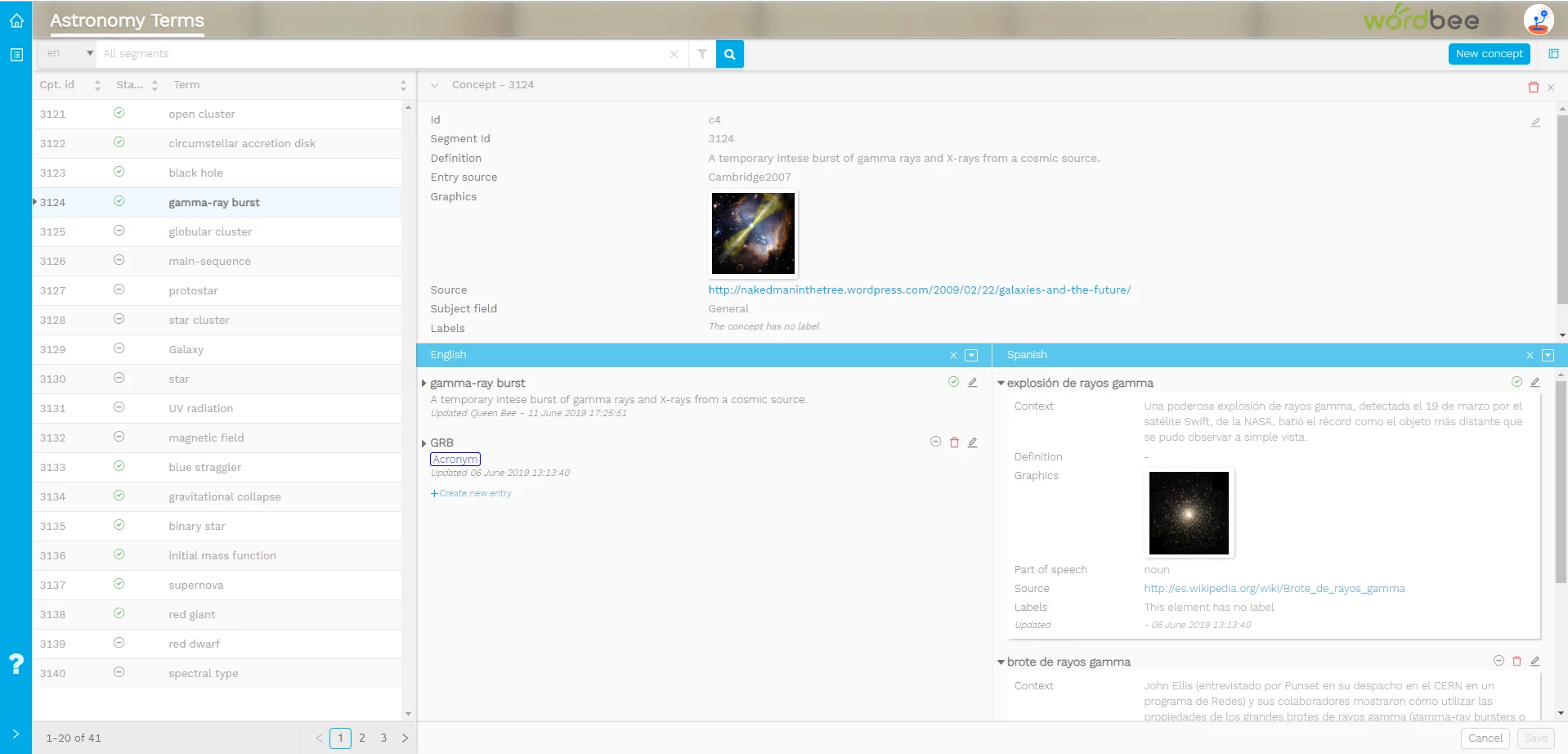 Access the Terminology Management tool
To use the Terminology Management component, first check whether it has been enabled in your Wordbee subscription. Proceed as follows:
Go to Settings and select Licenses & Usage from the drop-down menu.

Go to Details and open the Terminology Management tab to see whether the feature is enabled.

Main features and benefits
The main features and benefits of Wordbee Terminology Management:
Feature

Description

File type support

Wordbee has implemented the TermBase eXchange standard (TBX 3.0), which is an open, XML-based international standard used for exchanging structured terminological data. This offers the following advantages:

You can edit the TBX fields and define the structure of your termbase as you wish.

You are able to import and export TBX files created in other tools without worrying about the structure of your termbase or loss of information.

Besides TBX files, you can also import terminology from other file formats, such as Excel, CSV and TMX. See Importing Termbases.

Custom fields

If a specific field is not available in the system out of the box, you can create your own custom fields, for example images or URLs. See Termbase Customization.

Multiple termbases

You can group several termbases and translation memories into one Resource that you can assign to one customer or one project.

Easy sharing and collaboration

You can share your terminological resources with your team of translators and localizers to ensure consistency in translation. Permissions can be set up for individual users or groups. See Accounts and Security.

Additionally, it is possible to set up a terminology review workflow and use Term Status Labels to indicate whether a term is under review, approved or rejected. See Editing Termbases.

Terminology check

With the help of the QA Terminology Check, you can verify whether translators have actually used the terms stored in the database. See QA Configuration.
---