The classic order form is used for public and inhouse orders. By accessing the settings you are able to perform tasks such as selecting specific source and target languages to appear as selection options on the form, entering a URL for the client to accept your terms and conditions, and much more.
The following pages have been provided to help you customize the languages and properties of your public and inhouse order form:
The following information has been provided to help you understand more about the classic order form:
You can access this form by clicking on Settings in the toolbar. Scroll down to the Client Portal Section and click on Configure located to the right of the Classic Order Form option within this section.


What is the Classic Order Form?
The classic order form is the default order form provided for clients and/or public users in the system for submitted requests. Within the settings, you are provided with a public URL that may be used by clients or unregistered users who do not have a login in the system.
It may also be used by internal or external clients when a new order form has not been configured and assigned to that client. This form may be used by any person needing to order specific services from your company. If nothing has been configured, the form will appear as shown below to clients who have a login: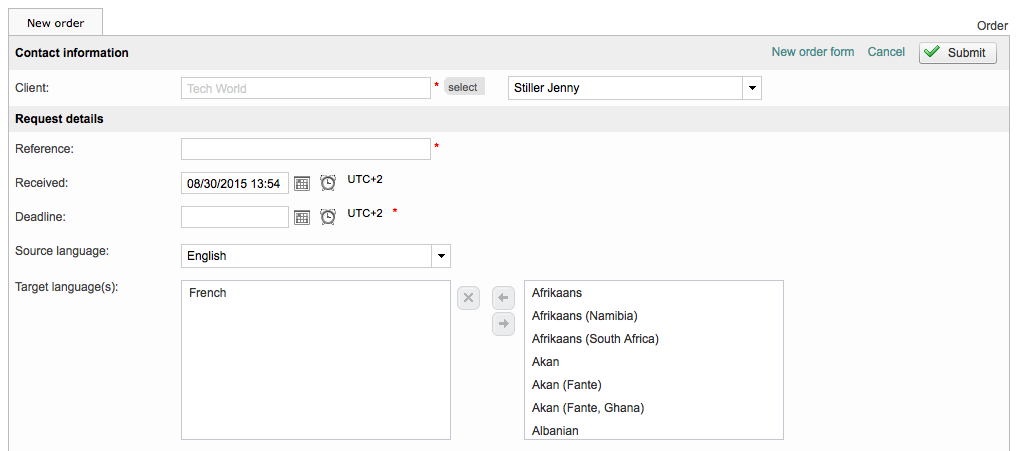 How is it different from the New Order Form?
The New Order Form provides a way for you to configure a customized form for clients, which may then be accessed through the Client Portal for submitting orders. It may be used to fully automate the ordering process for any client who has a profile, login, and password for the system.
These forms may be configured per client or as a standard form for all clients logging into the system. With the New Order Form, you are able to define the workflow for each option available on the form, automatically assign a manager, and automate processes such as:
Project Creation
Invoice Generation
Word Counts
Cost Calculation
Job Creation, etc.
The Classic Order Form is the default public form for clients who do not have a login and password in the system or anyone who wants to order services directly from your website. As part of this form, you are provided with a public link that may be placed on the company website for submitting requests.
This form has no automation in regards to the tasks that need to be performed after it is submitted. It is simply a basic form for any company or new client who has not previously ordered work through your company. Individuals may:
Enter their basic information.
Select source and target languages.
Enter a deadline, etc.
Why Customize the Classic Order Form?
By tailoring your classic order form, users will have an easier time completing the form. For example, if no source or target languages have been configured, every language will be a selection choice on the form. This is time consuming and increases the risk of errors.
These settings allow you to only configure the languages that will be used or available to anyone submitting the form. As part of the classic order form confguration settings, you are able to configure the following:
Company Terms and Conditions URL
Displayed Source and Target Languages
Deadline Default Time
Default Country
Default Source and Target Language
Make the Phone Number Mandatory
Configure When Additional Files May Be Uploaded by Clients
When the form settings are not currently being edited, you will see the URL for the classic order form at the top of the settings screen, as shown below.
This URL may be used to access the public order form, which may be made available to unregistered users of the system such as a potential client who has not submitted a request before. To view the URL, go to Settings > Client Portal > Classic Order Form and click on Configure.

If it is being accessed by users who have a login for the system, they may fill out this form by clicking on Go to Classic Order Form, when creating a new order in the system: