Wordbee Translator can be configured to send email notifications with all or selected events. Examples:
Send email to the administrator if an operation failed, such as a source file is corrupt and could not be processed.

Job notifications are sent out to propose jobs to suppliers, when a supplier accepts a job, when you send messages, etc.

Users add comments to the document or individual segments within the translation editor and decide to notify their manager or other suppliers in the workflow
---
Settings for Email Notifications
To access the settings for customising the notification of these events click in Settings in the upper toolbar, then navigate to the Project and Work Processes, to the section Email Notifications.


General overview of Notification Types:
From this page, you can customize the formatting and contents of notification emails sent by the system to any user.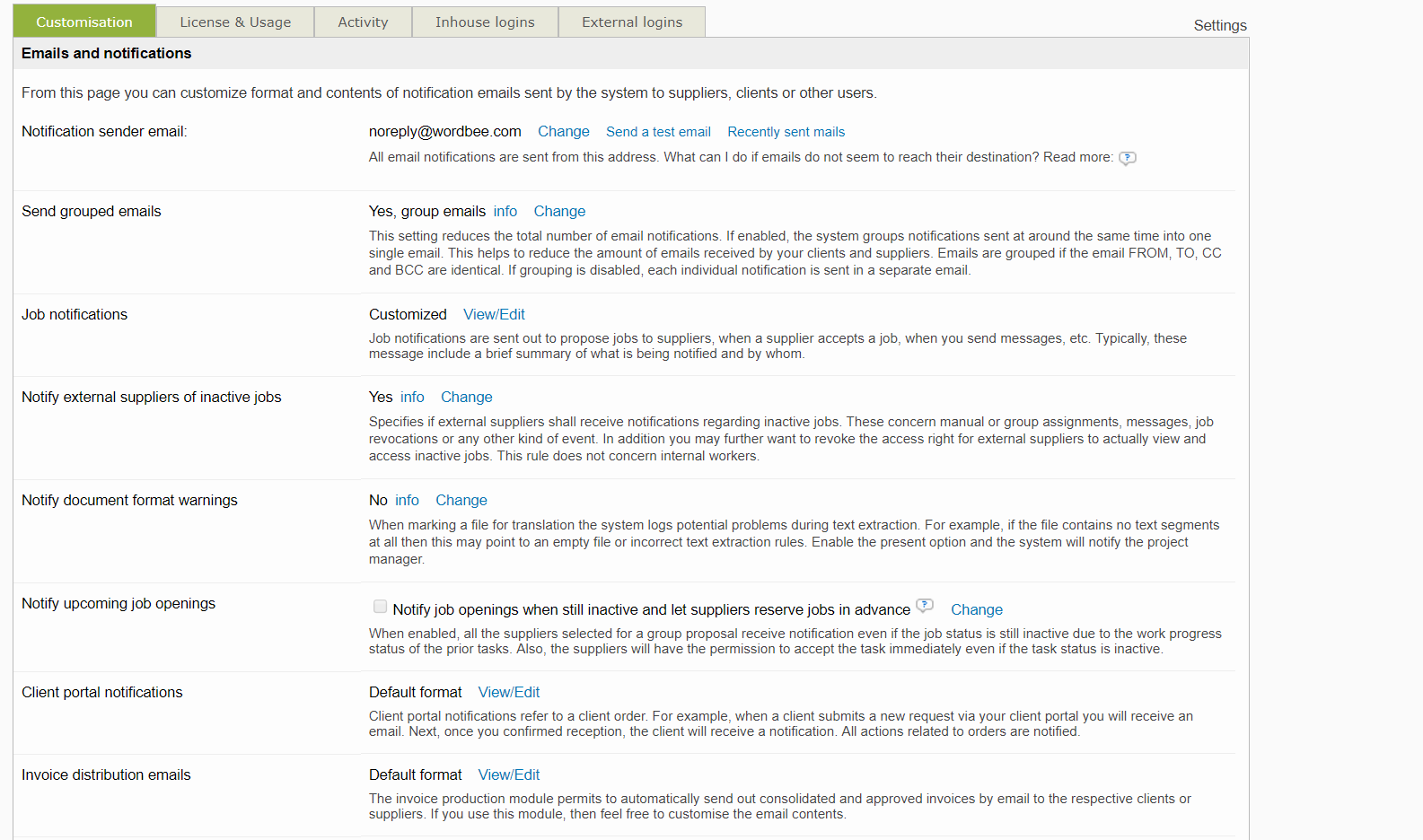 Notification sender email:
All email notifications are sent from this address.


Wordbee strongly recommends to leave the default address unchanged. Notifications sent from other addresses may lead to blacklisting by Google, Yahoo, Microsoft or other email providers. If this happens Wordbee reserves the right to restore defaults.





Send grouped emails:
This setting reduces the total number of email notifications. If enabled, the system groups notifications sent at around the same time into one single email. This helps to reduce the amount of emails received by your clients and suppliers. Emails are grouped if the email FROM, TO, CC and BCC are identical. If grouping is disabled, each individual notification is sent in a separate email.


Job notifications:
Job notifications are sent out to propose jobs to suppliers, when a supplier accepts a job, when you send messages, etc. Typically, these message include a brief summary of what is being notified and by whom.


Notify external suppliers of inactive jobs:
Specifies if external suppliers shall receive notifications regarding inactive jobs. These concern manual or group assignments, messages, job revocations or any other kind of event. In addition you may further want to revoke the access right for external suppliers to actually view and access inactive jobs. This rule does not concern internal workers.


Notify document format warnings:
When marking a file for translation the system logs potential problems during text extraction. For example, if the file contains no text segments at all then this may point to an empty file or incorrect text extraction rules. Enable the present option and the system will notify the project manager.


Notify upcoming job openings:
When enabled, all the suppliers selected for a group proposal receive notification even if the job status is still inactive due to the work progress status of the prior tasks. Also, the suppliers will have the permission to accept the task immediately even if the task status is inactive.


Client portal notifications:
Client portal notifications refer to a client orders. For example, when a client submits a new request via your client portal you will receive an email. Next, once you confirmed reception, the client will receive a notification. All actions related to orders are notified.


Invoice distribution emails:
The invoice production module permits to automatically send out consolidated and approved invoices by email to the respective clients or suppliers. If you use this module, then feel free to customize the email contents.


Translation editor comments:
The translation editor lets users add comments to the document or individual segments. A user may decide to have team members be notified by email. Use this link to customize the email message format.


Global Search notifications:
The Global Search tool lets users report incorrect translations. An email is then send to the Global Search manager. Use this link to customize the email message format.


Notes notifications:
You can add notes to different objects in system. An email is sent to subscribed users on adding or changing notes of company or person only. Use this link to customize the email message format.
Each user will be able to define to which events wants to be subscribed within their user profile, under the Notifications tab. This will allow you to define different levels of notifications, following-up the activity of the whole platform, of your own company or of your colleagues. Learn more how to configure them in the User Notifications page.
In order to be more efficient and reactive, we strongly recommend to be active in the platform instead of relying on the email notifications. Keep an eye on the "latest events" widget in the Home page as well as the Job dashboard to keep an eye on the latest updates in the system.
Learn how to get the most of your notification system here: